Darren Bent, the Aston Villa striker, looks certain to play no part for England at Euro 2012, after undergoing surgery on his ankle injury on Monday evening.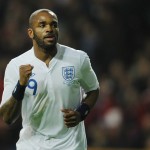 With Manchester United's Wayne Rooney unavailable for the national side for their first two Group D games, against France and Sweden, there was every chance Bent would have been given the opportunity to add to his 13 caps this summer. However, the 28-year-old suffered an ankle injury during Villa's stalemate at Wigan Athletic last weekend, and he has now been ruled out for three months.
An official statement from the Midlands club, released on Monday, confirmed: "Darren Bent underwent surgery tonight in a London clinic to repair ruptured ligaments in his left ankle. The operation was a complete success and it is expected that Darren will be able to resume full training in around 12 weeks."
Bent is now unlikely to be considered for selection for whoever is charged with picking the England squad for Euro 2012, particularly as the pool of players needs to be confirmed to UEFA by May 29, by which time he will still be in recovery. Furthermore, should Stuart Pearce be chosen to succeed Fabio Capello for the tournament, the Daily Mail last week suggested he would not name the usual preliminary squad of 30 players, but instead name a final 23 straight away, which would make the Villa star's involvement even less likely.
Meanwhile, Bent's absence will be sorely felt at club level. Although not considered to be relegation candidates Villa are just eight points ahead of the drop zone, and with Arsenal, Chelsea, Liverpool, Manchester United and Tottenham Hotspur to play during their 11 match run-in, they could yet be dragged into danger.
Follow takefootball on twitter: https://twitter.com/#!/takefootball