Rated as one of the best talents in world football, is it time for Neymar to prove his quality in one of the big leagues in Europe? Brazilian-based Damian Kane explores such a possibility.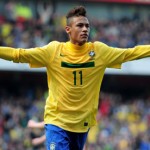 It's a well beaten path from the football pitches of Brazil to the great stadiums of Europe, and with the continent´s on-field business due to conclude very soon, all eyes will then be on  the summer transfer activity of the European giants as they try to shape their squads for another tilt at glory next season.
One person who is sure to garner much speculation is Brazil's latest prodigy, Neymar. You could probably fill Olympic-size swimming pools with the amount of ink already dedicated to such stories. He is being strongly tipped to be wearing the white of Real Madrid or the Catalan colours of Barcelona at some point in his career, but is there any truth in the rumours that deals are already being made?
Reports seem to rule out a move to Real Madrid after a fall-out during negotiations with President Florentino Perez. The Madrid boss tried to recruit a 13-year-old Neymar during a visit to sign previous Brazilian prodigy Robinho, who shares the same agent as his compatriot, in 2005. The deal was scuppered at the time by red tape but Perez has continued to follow Neymar´s progress ever since.
The alleged dispute this time came about as negotiations became more protracted than the Brazilian had hoped. This could soon change, though, as it is standard procedure for anyone vying for the position of president at the club to base their election campaign on the promise of a big signing, so it is possible any contender to Perez presidency may try to recruit the 20-year-old striker whilst trying to gain votes.
The next logical move would be to Barcelona. This year, the Catalans have relinquished their La Liga crown to Real this season, and were knocked out of the UFA Champions League at the semi-final stage by Chelsea. Add to this the loss of their most successful ever manager, with Pep Guardiola´s announcement that he will step down at the end of the season, and you´d think they´d be doing everything in their power to make the kind of marquee signing Neymar would surely be.
However, this move also seems to be a no-go after Luis Alvaro Ribeiro, president of Santos who have the player contracted until July 2014, said of Barcelona's interest: "They can go harvest potatoes in Catalunya".  This could just be posturing on the club´s part in an attempt to harness the highest possible fee for the jewel in their crown. Sir Alex Ferguson once stated he wouldn't sell Real Madrid a virus after being questioned about a possible transfer of Cristiano Ronaldo. He was true to his word: he didn't sell them a virus. He did, however, sell them Ronaldo for a world record £80million.
Ribeiro also said he wants Neymar to stay at Santos until he is 80 and that he would offer the players' 9-month-old son a contract, so it would appear he is pretty determined to hang on to such a precocious talent.
So with a move to Spain seeming unlikely, for this summer at least, what other destinations could be mooted? England's Chelsea and Manchester City both have the means to make anyone sit up and listen to what they have to say at the negotiating table. Manchester United would be interested in such a player, even if they no longer have the same financial clout. Then there is Italy and a possible link up with Robinho at AC Milan. Elsewhere Inter Milan are looking to strengthen after a disappointing campaign, or newly crowned champions Juventus are other potentials. French side PSG, with their new found wealth, would almost certainly throw their beret into the ring as well.
If a move across the Atlantic is to happen, whoever the lucky team is will have to break the bank. The levels of celebrity Neymar enjoys here in Brazil are comparable to those enjoyed by David Beckham in England in the 00s. He is everywhere: cups, calendars, adverts for soft drinks; you name it, there is bound to be a version of it with Neymar´s face on it. He reportedly gets 100% of the fees for these endorsements and he would almost certainly be asked to give up some of these image rights should he move to Europe. That on top of his contract has the potential to earn him up to Brazilian R$60 million (23.3 million euros) a year, meaning he will not have to move for financial reasons.
When he signed his new contract in November last year which, if fulfilled, will keep him in Brazil until after the country hosts the 2014 World Cup, he said: "We all have to make choices in our lives. And today, my choice is Santos". Europe's big guns can come knocking in the summer trying to pry him away, but they may not get the answer they were looking for given the player´s apparent love for the club and the president´s desire to hold on to such a prized asset.
Damian Kane
Follow Damian on Twitter: https://twitter.com/#!/DamianKane79
Follow takefootball on Twitter: https://twitter.com/#!/takefootball