The word 'legend' is bandied around all too often in football these days, but Manchester United's squad will be a legend short when next season begins.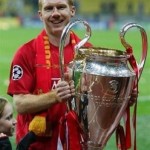 Since Paul Scholes confirmed his retirement earlier this week, a number of tributes have been flowing in. And how can they not? This is, after all, a man who has spent his entire career at one club, and in doing so appeared 676 times whilst winning ten Premier League titles, a UEFA Champions League, three FA Cups and two League Cups, as well as the Intercontinental Cup in 1999 and the FIFA World Club Cup eight years later.
Capped 66 times by England, he appeared in the 1998 and 2002 FIFA World Cup Finals and the 2000 and 2004 UEFA European Championships before bowing out after the latter, three months short of his thirtieth birthday. At the time, Scholes, arguably the most creative talent available to the national side, was being misused by coach Sven Goran Eriksson, who often shunted him over to the left hand side of his midfield so to contain both Steven Gerrard and Frank Lampard.
Six years later, with the problem of accommodating the aforementioned pair still unresolved going into for the World Cup, Fabio Capello urged the United veteran to reconsider his decision and board the flight to South Africa. That the Italian was eager to involve the 35-year-old, despite the availability of Liverpool's 30-year-old and Chelsea's 31-year-old, makes you wonder how many caps the Salford-born player would have amassed had he not been so criminally mishandled by the Swede. Unlike Jamie Carragher, Scholes resisted the temptation and declined the invitation, citing it would be unfair for him to take the place of someone who had helped the team qualify.
Such an answer is perhaps typical of a man who earned adulation not just for his performances on the field, but the way he handled himself off it. Ian Ladyman, of the Daily Mail, once wrote a piece following the 2008 Champions League final, which saw the Reds star finally get his hands on a winner's medal following his personal heartache of nine years previous. As his team-mates talked to the media about their dramatic penalty shoot-out win in Moscow, Scholes sat quietly on the bus, medal around his neck, waiting to go home. Recalling this just weeks later, he confirmed: "Yeah, I was first on the bus. What's the point in hanging around? I was pleased with what we'd done but didn't want to spend all night talking about it."
Actions like that make Scholes unique in the modern game, symbolised by a popular t-shirt on the stalls outside Old Trafford which pictures him along with the words 'Go to work, Play the game, Get showered, Go home', and this just about sums up his attitude: some of us work in the building industry, some go to the office every day, his job is to play football…what's the big deal? You won't find him in a glossy magazine showcasing his home, and I doubt Celebrity Big Brother have ever considered calling him up. Indeed, Sir Alex Ferguson once described trying to get him to participate in a Champions League press conference as 'agony'.
On the field, he has had as many tributes paid to him as anyone of recent times. Famously, the great Zinedine Zidane labelled Scholes as the best midfielder of his generation. Luis Figo, the Portugal legend, admitted to being 'star-struck' whenever he encountered him. Ronaldinho desired a passing range equal to that of the United legend, whilst Pele, scorer of 1000 professional goals, mused how many he would have scored had he played alongside him. At Real Madrid, David Beckham confessed many of his team-mates would often ask about Scholes, and, somewhat bizarrely, former England coach Kevin Keegan once claimed he wanted to adopt him.
All these compliments would no doubt be of great embarrassment to Scholes, and as he is so revered by his fellow professionals, it is surprising that he has never been voted PFA Player of the Year. Such a thought, though, would likely terrify him, as it would require him to adorn a bow tie and mumble some words of acceptance. Roy Keane, Teddy Sheringham, Ruud van Nistelrooy, Cristiano Ronaldo and Ryan Giggs have all won it during his time in the United first team, yet only the latter has more honours to boast: and team silverware, of there can be no doubt, is what really matters to Scholes rather than personal accolades.
How Ferguson can replace him is a task which could be beyond even him: and even if he does find a suitable successor on the pitch, it is bordering on the impossible that the same person would be as respected as Scholes off it. There is an old poser about finding a magic genie who grants you one wish. The obvious answer is to use this sole wish to ask for a million more, but I'd be tempted to ask for another Paul Scholes.