A 2-1 home reverse to Liverpool on Sunday has mounted the pressure on Andre Villas-Boas, but it would be madness for Chelsea to even consider showing him the exit door.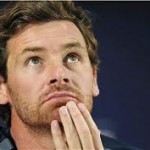 Glen Johnson, who ironically was the first signing of the Roman Abramovich era back in 2003, was the man who dealt the latest, and perhaps heaviest, blow to the Blues' hopes of regaining the title they lost to Manchester United last season. The England international was allowed to beat both Ashley Cole and Florent Malouda with three minutes remaining on the clock, before despatching a low shot beyond Petr Cech and the desperate John Terry.
The speculation that has followed is, given the nature of the club under their current owner, predictable. After all, Carlo Ancelotti was deemed a failure last season when he failed to follow up the double triumph of his debut term. Further back, Luiz Felipe Scolari paid for his job when senior players reportedly spoke out against his reign, whilst Avram Grant stood no chance despite being just one kick away from winning the UEFA Champions League. Hell, even Jose Mourinho, the man who continues to cast a huge shadow over Stamford Bridge, was given the bullet after growing too big for his overcoat.
So, what chance has Villas-Boas got, having overseen the worst start to a season in the Abramovich era? Four defeats in twelve fixtures has them lagging in fourth position, seven points behind their perennial rivals from Old Trafford and a further five behind Manchester City, the current leaders. Even Newcastle United, in just their second season since regaining membership to the top-flight, are staring down at the Londoners.
So it is inevitable that the eyes are fixed firmly on the exit door, with the expectation of seeing a sharply dressed Portuguese walking through with his P45 in hand. However, to dispose of the 34-year-old now, after just a dozen league fixtures to his name, would be ridiculous. In fact, even the thought of replacing him, regardless of the availability of former coach Guus Hiddink, would be harsh to say the least.
Although the former Porto boss is reluctant to label this season as a transitional one for Chelsea, there is no escaping the fact that it is just that. This is a side which is in dire need of fresh injection, and a squad which is, arguably, weaker than any of the Abramovich reign despite a number of personnel remaining the same: the spine of Terry, Frank Lampard and Didier Drogba is an ageing one, and whilst two of these have lost their untouchable tag in recent times, the only one who continues to be considered a constant is not performing in the manner he did when he was widely regarded the best defender in the division.
Even a Petr Cech error, which was so rare in his first three years in England, is far from unusual. And Ashley Cole, who has been thought of as the best left fullback in Europe for many a year, looks a shadow of his former self in a back four which is troubled by the continued presence of the capricious David Luiz. Elsewhere, Malouda has, like last season, failed to reproduce the form of Ancelotti's double-winning campaign, John Obi Mikel is making a mockery of the memory of Sir Alex Ferguson and Mourinho battling for his signature, and despite his endeavour, Fernando Torres remains a costly disappointment.
Villas-Boas has already sought long-term solutions: in Thibaut Courtois, currently on loan at Atletico Madrid, he feels he has the eventual successor to Cech; another Belgian, Romelu Lukaku, is being primed to fill Drogba's boots; whilst other youngsters, such as Lucas Piazon and Oriol Romeu, are also being tipped for a bright future at the club, and in the case of the latter, has already shown great promise. One signing which was made for the now and not just for the future, Spanish playmaker Juan Mata, 23, is already regarded as one of the best additions to the Premier League in recent years.
Bringing in Hiddink as a director of football may seem like a sound idea: but only if Villas-Boas is comfortable with the arrangement. If not, then it really will look like the young man is on borrowed time, and it will also prove that Abramovich has learned little from his gaffe of last season, when he dismissed Ancelotti's popular assistant Ray Wilkins. Not only this, but as long as it is being seen that the Russian is making decisions over the men he continues to appoint, then there will come a day when a leading manager will snub the job for fear of being undermined.
Some critics are already pointing at the fact that Villas-Boas is too inexperienced, as this is only his third season as a first team coach. But is this really a valid reason to contribute towards sacking him? Was this inexperience a problem when he was appointed in the first place? If anything, he was lauded for achieving so much last season for one so young, and one of the reasons why he was thought to be the person to take the club forward and build the dynasty which was once expected of Mourinho: so, is it worthy consigning this vision to the dustbin already, on the back of four defeats which happen to include two successive home losses?
Furthermore, Villas-Boas has arrived at an extraordinary time in the history of the Premier League. Not only has he to contend with champions United, and a City who can probably boast the strongest pool of players in European football, but a rejuvenated Tottenham Hotspur and an improving Arsenal. Not to mention the rebirth of Liverpool under Kenny Dalglish, and the many surprise elements of the division which includes a Newcastle side who, until the weekend, remained unbeaten. The competition is fiercer now than it has ever been since 2003, and certainly more so than in either of the seasons when Mourinho led the Blues to glory with back-to-back title wins.
Given this competition, and the squad he inherited, what exactly would Abramovich, and even the supporters, expect Villas-Boas to achieve this season? Did they genuinely expect him to outmuscle the two Manchester clubs and regain the title? Are they planning on getting their hands on the Champions League, the one trophy which their Russian owner craves more than any other? When Mourinho was sweeping all before him, United and Ferguson had to endure a transitional period in which they went three years without winning the title; given that the challenge bestowed upon Villas-Boas is even greater, surely it's reasonable to offer him a similar period of time?
Had AVB arrived in the summer and already addressed Chelsea's problems successfully, then he really would be the Special One. But, alas, he is no miracle worker, and the fruits of his labour were never going to be realised within the short space of twelve Premier League matches or, to look at it another way, 1080 minutes. There is no short-term fix here, this is a long-term project which will take a lot more than twelve months to engineer. So to give him anything less would be grossly unfair.
Follow takefootball on Twitter: http://twitter.com/#!/takefootball