Internazionale are reportedly set to offer Andre Villas-Boas a return to the dugout in the summer, but would the Portuguese be better off declining such an invite?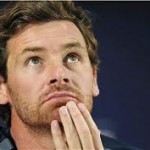 After winning four trophies in one season at Porto, the 34-year-old was installed at Chelsea ahead of the current season with the reputation as one of the brightest young coaches in the world. A little more than seven months later, with the Blues struggling to keep pace with the top four in the Premier League, he was shown the exit door by Roman Abramovich.
Whether he was given enough time and freedom to make the changes needed at Stamford Bridge will forever be open to debate, but what is not of question is that the job in hand was always going to be a tall order. Not only did he have to convince the senior players of his methods, he had an even bigger task in persuading them and the club's supporters that he is man to finally succeed Jose Mourinho.
Ultimately, this he didn't achieve. But he certainly isn't alone, as he joins Avram Grant, World Cup winner Luis Felipe Scolari, and double winning Carlo Ancelotti as those who have tried and failed to bury the ghost of a manager who, during three years at the helm, delivered two Premier League titles, an FA Cup and two League Cups.
What couldn't have helped the young coach was the vocal support aired for their former manager by the fans. For instance, during the 1-1 home draw with Birmingham City in the FA Cup, rather than cheer on their struggling players, many instead chose to sing the name of the Real Madrid coach. On the same weekend, fans of Inter did likewise, as they saw their team fall to an embarrassing 3-0 home defeat to Bologna.
Like the Premier League side, the Serie A giants are also finding it hard to get over Mourinho. His stay at the San Siro was even shorter than that he enjoyed in London, but during his two years in Italy he won two league titles and, more significantly, he steered the Nerazzurri to their first Champions League win since 1965.
They too have failed to replace the Portuguese: Rafael Benitez and Leonardo held the position between them last season, and this term Gian Piero Gasperini lasted just five games before being replaced by Claudio Ranieri. The latter described himself as a dead man walking as he faced the axe in Abramovich's debut season in England, and the same fate awaits him now following Inter's wretched form which includes five defeats in the last eight league matches and Champions League elimination to Marseille.
Mourinho's return to either club would likely be the story of the summer. As he closes on ending Barcelona's three-year stranglehold on the league title, there is also the potential of meeting and beating them in the Champions League final in Munich. Should he achieve this, he may well consider his job in the Spanish capital as complete, and look to continue his trend of moving on from clubs after relatively short spells.
He has in the past indicated that his heart remains in England, so if he does leave Real, a return to Chelsea, whilst improbable, isn't entirely out of the question. It would seem more likely than a reunion with Inter, considering he has made no secret that despite his success, Italian football isn't for him. This would then leave Massimo Moratti looking for someone else to succeed Ranieri, and Villas-Boas is thought to be a serious candidate.
But having had his fingers burnt in trying to lay the ghost of his compatriot at Stamford Bridge, would taking on the same job description at Inter really be the best career move for a manager who, don't forget, is still very much learning his trade?
Like at Chelsea, Villas-Boas would inherit an ageing squad. Four of their most used defenders this season have been Javier Zanetti (38-years-old), Lucio (33), Walter Samuel (33) and Maicon (30), whilst key midfielder Esteban Cambiasso is 31, and Wesley Sneijder continues to have doubts over his future at the club. Strikers Diego Milito and Diego Forlan are also in their thirties, whilst 27-year-old Giampaolo Pazzini, their most used forward, has just five goals in 25 appearances.
In other words, it's not an easy job for whoever takes the role on. Despite his short spell at Chelsea, most pundits are prepared to give Villas-Boas the benefit of the doubt due to the circumstances surrounding the club and the scattergun approach to recruitment of its owner. But a spell of similar length at another top club may raise question marks over his ability. So whilst the prospect of leading Inter back to glory days of Mourinho is an appealing one, it's probably best left for a more experienced man.
Follow takefootball on twitter: https://twitter.com/#!/takefootball