Arsene Wenger insists his Arsenal side will be aiming to win a first league title since 2004 this season, and he is sure his side are up for the challenge.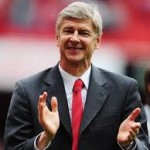 It is well documented that the Gunners have not added to their honours list since their move to the Emirates Stadium, with their last success coming in an FA Cup final penalty shootout win over Manchester United at the Millennium Stadium in 2005.  A Carling Cup final defeat to Birmingham City in 2011 is the closest they have come to ending this drought, whilst in the Premier League they have only finished in the top two on one occasion since their Invincible team of eight years ago.
In truth, whilst Wenger's side are always amongst the favourites to land one of the domestic cup honours, not many pundits would expect them to finish above either Manchester club, or perhaps even Chelsea, this season. The additions of Olivier Giroud, Lukas Podolski and, in particular, Santi Cazorla, may offer much optimism, yet this could be dampened considerably if captain Robin van Persie, who scored 30 times last term, defects for Old Trafford.
Of course Wenger is bound to look at things with optimism, as is every other manager in the country at this time of the year. Despite the uncertainty over his star striker, the French coach points to a better preparation this summer when compared to that of 12 months ago, when he had to contend with the departures of Cesc Fabregas to Barcelona and Samir Nasri and Gael Clichy, both of whom joined Manchester City were they would go on to win the title.
But if van Persie does indeed head to United, who are now widely accepted to be in pole position should the Londoners decide they have little option but to cash in on the 29-year-old due to his contract situation, then Wenger's optimism is unlikely to reach the Arsenal fans. And with reports in Spain claiming Alex Song, who assisted in 13 goals last season, is a target for new Barca coach Tito Villanova, things could get even worse before the end of the month.
For now, though, Wenger is happy to concentrate on what he has rather than what he could lose. And he feels the players at his disposal are capable of mounting a serious bid to win the title, although based on last season's final standings, this would require them overhauling a sizeable 19-point margin to merely catch the Manchester duo at the head of the ladder.
"We want to and we have a desire to," Wenger told the club's official website. "We are up for it and what we want is to come out of the season and know we have given our best. I feel we did that last year, finishing third with the start we had.
"The first target is to do as well as we can in every single game and see where we stand at the end of the season, but of course we want to fight for the championship. We are in a much stronger position now because last summer we lost Nasri and Fabregas, and on top of that we lost (Abou) Diaby and Jack Wilshere (to injury). We lost four players and that is not the case this time."
Follow takefootball on twitter!